The Richmond Saga
---

When NASCAR invades the short tracks, tight racing abounds. The combined effect of 43 cars on a track less than one mile and drivers that are battling for every position in order to impress car owners, sponsors, and most importantly, themselves. So it came as no surprise that the June 6 race at Richmond was filled with a number of controversial incidents.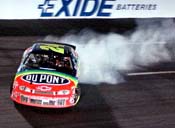 Jeff Gordon spins after contact from Rusty Wallace.

The most controversial was probably the Jeff Gordon crash in turn two.

History Lesson

Rusty Wallace had the lead of the race and was looking to win his first race of the year. He considered Richmond 'his track' because of the success he has had at Paul Sawyer's track over the years. However, just like at Charlotte a few weeks earlier, Gordon was gaining ground on him in the closing laps. At Charlotte, Gordon passed him and went on to the victory costing Wallace $1,000,000 in the process. Fans talk about the Bristol debacle of April 1997. No doubt that Gordon's last lap bump pass was on Rusty's mind. But it would be foolish not to think that Charlotte also flashed through his mind... especially since it was Gordon that took away his chance at $1,000,000 at that race.

Scene of the Crime

By now the scene is familiar: Wallace hits the left rear quarterpanel of the DuPont Chevrolet spinning Gordon into the wall. After the race his only comments were, "Hell of a race, don't you think? A little racing accident. No controversy." He offered no apology about the incident. Was it intentional? I doubt it. Let's just say Rusty probably could care less that a car was on the outside of him in that turn.

What the drivers are saying

A few NASCAR drivers were asked about the incident this week. Most feel that past history played a major role in the crash.

Ernie Irvan:
"I'm sure (Bristol) was on Rusty's mind. Maybe that was a little payback."

Dale Jarrett:
"I saw Rusty get loose, and he got the car corrected, then it started to go again. He saw that he was going to have to use a lot of racetrack and the person who was there (on the outside) was someone who had used him in another incident (Bristol)."

All Out War? Don't Bet On It

The legendary fueds of the early 1970's between Richard Petty and Bobby Allison were like matches to the death. In every race, it seemed that the two rivals found each other on the track and than ran door to door until a "slip up" wound up taking one of them out of the race. Don't look for such a rivalry between Wallace and Gordon. For one thing, NASCAR has an image to protect and rough driving isn't it. They don't have a penalty box for nothing. Also, with a Winston Cup title at stake, neither driver would risk taking themselves out of another race just to exact "revenge." Revenge will be gained by beating the other on the racetrack and winning the Winston Cup title. The older veteran from St. Louis against the new upstart from Indiana. I wouldn't bet against the upstart.







---
Index Page
---
Copyright ©1998 gordonline.com.
All rights reserved.
Do not duplicate this article in any form without
prior written permission from the author.