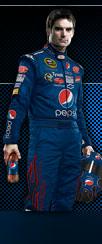 Stops And (Re)starts
April 12 - - Kevin Harvick dominated the Southern 500 at Darlington Raceway by leading 239 of the 374 laps. However, it took a second green/white/checkered restart before he took the lead for the final time to score his second win of the season. Jeff Gordon seemed to have a car to challenge Harvick at times, but faded late in the race after brushing the wall. Gordon, who led 8 laps during the race, opted for two tires and track position for a restart with less than 10 laps remaining. However, he struggled on the restarts and faded to finish 7th. It was his 6th top-10 finish in 8 races. Gordon remains the points leader by 1 point over Matt Kenseth. "Towards the end we started fading," Gordon said. "I got in the wall and flattened the right side. From there our night went downhill. We made some mistakes and got behind. We were the last car on 2 tires and we got ate up on those restarts. Actually, that last one wasn't bad to come home 7th, I thought it was going to be a lot worse than that. So, it's good to be leading the points. I feel like it's a missed opportunity, but another great race car and I'm happy about that."
---
#24 Wallhauler Raffle
April 25 - - Enter the May raffle benefiting the Jeff Gordon Children's Foundation. Grand Prize: #24 Wallhaulers licensed race car door, which will be autographed AND personalized to the winner by Jeff Gordon. Second prize: 1995 championship package including the 1995 NASCAR Yearbook autographed by JG. Total of six different prize packages.
TIX: $5/ea (limit 1000). U.S. addresses only.
---
Fight On Against Pediatric Cancer
As you may know, I didn't start a website about Jeff Gordon with the intention of raising money to fight pediatric cancer. Two years ago, Jackson Panzarello forever altered the course of my life. Jackson's battle against cancer sparked my efforts to give more children a fighting chance against the disease. I have many teammates who open their hearts and wallets every time I have a pediatric cancer fundraising event. Whether you've donated $5, $500, or $5,000, your continued support means to the world to me. My fundraising efforts are directly tied to the power of teamwork. It is truly, as the inscription at Hendrick Motorsports reads, "the fuel that allows common people to produce uncommon results." Please consider a donation and join our team in the fight against pediatric cancer.

Essay: "False Echoes" - On life, loss, and the everlasting impact of Jackson Panzarello

Oct 24-28: A long weekend in Southern California in honor of the inspiration who put me on this incredible path to make a difference in the fight against childhood cancer. It was humbling to read the piece on USC's website about my pediatric cancer fundraising efforts in honor of Jackson Panzarello to support The Jeff Gordon Children's Foundation, Kick-It, and CureSearch.
Read: "Fighting On for Jackson"

Homecoming Game: Trip to Charlotte on Sept 11 for a Kick It event with my amazing teammates in our mutual fight to end childhood cancer.
PIC: 'The Boys In The Band'

JGCF Annual Report - Honored to be featured in The Jeff Gordon Children's Foundation Annual Report (p.15 of PDF, p.27 of report)
---
Making A Difference
Pediatric cancer fundraising total: $65,189*
2014
Jeff Gordon Children's Foundation: $5,911
St. Baldrick's Foundation: $150
2013
Jeff Gordon Children's Foundation: $20,300
Kick It for Children's Cancer: $5,140
St. Baldrick's Foundation: $159
Marnie Jude Foundation: $32
2012
Jeff Gordon Children's Foundation: $12,681
Kick It for Children's Cancer: $12,608
CureSearch: $737
2011
Jeff Gordon Children's Foundation: $1,752
CureSearch: $5,719
*Since 2011
---
| | | |
| --- | --- | --- |
| Public Comments | | Newsworthy |
| | | |
| --- | --- | --- |
| | | Going forward, the "breaking news" can be found on Facebook and Twitter. The Jeff Gordon Online website will focus on race reports, feature columns, and charity initiatives. |
Follow on Twitter!


Calendar
April 25
Qualifying
April 26
Richmond
May 4
Talladega


| | |
| --- | --- |
| Starts | 8 |
| Poles | 0 |
| Wins | 0 |
| Top-5 | 3 |
| Top-10 | 6 |
| DNF's | 0 |
| | |
| --- | --- |
| Track | Finish |
| Bristol | 7 |
| Fontana | 13 |
| Martnsville | 12 |
| Texas | 2 |
| Darlngton | 7 |


1997- Jeff Gordon bumps Rusty Wallace on the final lap to take the lead and win at Bristol.

-April 13-