Still Making Headlines
---

The incident at Richmond in early June between Rusty Wallace and Jeff Gordon continues to make headlines throughout the Winston Cup circuit. It's the story that simply won't die. And both participants seem to be keeping the flame alive in the story.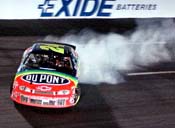 The 'Richmond Incident' still seems to be the topic of interest on the Winston Cup circuit.

If nothing else, it makes for good fodder for the race fans in the stands.

Recently at Pocono Raceway in Pennsylvania, Gordon won the pole and Wallace was the second fastest qualifier. The fans sensed trouble on lap one. Well, not exactly. On the start, not unlike the Bud Shootout at Daytona in February, Wallace on the outside jumped ahead of Gordon. However, the inside car sets the pace on restarts and Wallace was black flagged. It was a controversial call but after Rusty went back on the track, his engine expired making the black flag a moot point.

In mid-June at Michigan Speedway, Wallace "got loose" in a practice session and wrecked Dale Earnhardt. After the incident, Earnhardt grabbed Wallace by the shirt and told him how he felt about him. Wallace then proceeded to apologize to Earnhardt, his fans, and seemingly to anyone he had ever wronged in his life; except for Jeff Gordon. There would no apologies from Wallace about the Richmond incident.

The following week at Pocono, Gordon and Wallace were asked about the other. Talking about Gordon, Wallace said, "I don't have a problem at all running with Gordon. He shouldn't have a problem running with me. I'm going to go out there and race hard, and that'll be it."

Gordon was willing to go into greater depth. "The most disappointing thing to me was how he said he was sorry to Earnhardt, how he said he was sorry to Earnhardt's fans, and yet he said absolutely nothing, didn't even say he hit me at Richmond," Gordon said. Asked about his comments after he got out of his car at Richmond, Jeff said, "Sometimes I don't want to say anything, but they stick those cameras in your face. I thought I held back. I said as little as possible."

After finishing the race at Richmond, Rusty was asked about the incident with Gordon. His response: "Hell of a race, don't you think." When asked about his thoughts on Rusty's post race comments at Richmond, Jeff said, "I thought he looked like an idiot because he didn't say that it even happened. He totally dodged the whole question. I think it was pretty obvious from the tape. That's why I said what I said."

One incident does not define a career; it doesn't even define a driver. But, it can define a season. Obviously the 'Richmond Incident' is a memorable moment of the 1998 season. However, that's mainly because it happened late in the race with the two drivers involved trying to win. There are other incidents that are similar but never get the mention. Dale Earnhardt wrecking Ken Schrader in turn three at Pocono comes to mind. But, the Richmond incident came at a dramatic point in the evening with two of NASCAR's biggest stars involved. But, it's over and done with. Now let's move on.

Asked about racing with Wallace in the future, Jeff said, "I'd treat him just the same as anybody else. If that meant I had to rub or bump him at the end of the race I would do what it takes. But I'm not going to go out there and intentionally take somebody out."









---
Index Page
---
Copyright ©1998 gordonline.com.
All rights reserved.
Do not duplicate this article in any form without
prior written permission from the author.