The History of Hendrick Motorsports
1990-1999
---

The changes at Hendrick Motorsports continued. Waddell Wilson, after a year of feuding with Waltrip, moved over to work with Geoff Bodine. After Bodine left at the end of that season, Hendrick hired Ricky Rudd. Rudd was a veteran whose career needed to take the final step. He drove for Richard Childress, Bud Moore, and Kenny Bernstein. With each owner, he visited victory lane; he knew how to conserve a car to win a race.
Ricky Rudd

In the early 90's, Ricky Rudd, Ken Schrader, and Darrell Waltrip were the drivers in the Hendrick stable. Greg Sacks drove a fourth car, the #18 Chevrolet, in a limited number of races in 1990. In July 1990 at Daytona, Waltrip was involved in a practice crash and suffered a broken leg. A number of substitute drivers, including Sacks, Jimmy Horton and Sarel van der Merwe, drove the #17 during the summer. In his lone start in the #17 car, Sarel was involved in a multi-car crash at Watkins Glen and took the brunt of the blame from other drivers in the wreck. Waltrip later returned, but eventually bought his own team from Hendrick. He had some early success but eventually fizzled. In 1991, Rudd finished second in points to Dale Earnhardt. It was the closest Hendrick Motorsports had gotten to a Winston Cup title up to that point.

In addition to cultivating his own teams, Rick Hendrick has helped other NASCAR teams. Joe Gibbs, the Super Bowl winning coach of the Washington Redskins, was about to retire from coaching. He wanted to get into NASCAR racing as a team owner. With the help of Rick Hendrick and Max Helton from Motor Racing Outreach, he was able to. Helton put him in touch with the owners of Interstate Batteries while Hendrick negotiated a Chevrolet contract for him, complete with engines from Hendrick Motorsports.

Derrike Cope was a struggling Winston West driver trying to make the transition in Winston Cup racing. In 1989, Hendrick negotiated a Chevrolet contract for Bob Whitcomb Racing. Cope would go on to win the 1990 Daytona 500 using a Hendrick Motorsports engine.

In 1992, Hendrick Motorsports was a two car team with Ricky Rudd in the Tide #5 car and Ken Schrader in the Kodiak #25. The pieces remained in place for a third team. The R&D department was ready for a third team once again. However, Rick Hendrick knew that he needed a driver for a third team. Not just any driver; but a potential superstar. This time, he would make the three car team work. In March 1992 at Atlanta Motor Speedway, Rick was watching a Busch Grand National race with passing interest. Glancing at the track, he noticed a white Ford getting loose in the turns. It was a glance that would change NASCAR racing forever.

When the driver of the Baby Ruth sponsored Ford kept going for over twenty laps without wrecking, Rick asked who the driver was. He was told it was "that Gordon kid." But, it was assumed that Jeff Gordon was under contract to Ford at that point. Andy Graves, Gordon's roommate, mentioned that he didn't have a contract. Suddenly, the third team began to take shape. Rick Hendrick hadn't had a dominating driver since Tim Richmond. But, that day at Atlanta, he saw something in Jeff Gordon.

Gordon was being recruited by many car owners at that time. His Busch car owner, Bill Davis, did not have him under contract but he assumed that Gordon would be his driver when his team made the jump up to the Winston Cup ranks. Nevertheless, nothing was signed with Davis. Gordon's contract demands were relatively light. The only issue he was steadfast in was the crew chief. He wanted his current Busch crew chief to move up with him. The crew chief wasn't a veteran of the Winston Cup series; he was a former modified driver from New Jersey named Ray Evernham. Evernham had never been a crew chief in a Winston Cup event. But, Hendrick agreed to the deal. It was the best motorsports decision he has probably ever made. The driver-crew chief combination of Jeff Gordon and Ray Evernham would go on to rewrite the NASCAR record books.

Sponsorship for the neophyte team came from DuPont Automotive Finishes. The team would debut in the final race of the 1992 season in a car painted like a rainbow with the #24 on the side. It was Richard Petty's final race and Jeff Gordon's first race. Both would suffer misfortune and drop out before the finish.

In 1993, Gordon burst out of the gate with a win in the 125 mile qualifying race for the Daytona 500. In that race, Indy car racer Al Unser Jr made his first, and only, NASCAR start in a fourth Hendrick Motorsports entry. The Valvoline sponsored car started toward the back of the pack. Unser moved into the top ten before being taken out in a wreck. Nevertheless, he gave the NASCAR world a glimpse of his talent in a stock car. Gordon's team would have an up-and-down rookie season in which they placed 14th in points. The DuPont team was relatively new and there was still learning to be done. Ricky Rudd spent his final year with Hendrick Motorsports compiling one victory and nine top five finishes. He would depart after 1993 to form his own team leaving a vacant seat to fill in the 5 car. Tide would be sponsoring Rudd's effort and not Hendrick Motorsports. It was time to find a new major sponsor and driver for the #5 car. By the end of 1993, the choice was clear; The Iceman Cometh.

Terry Labonte, known as the 'Iceman' for his cool under pressure driving style, won the Winston Cup title in 1984 driving for Billy Hagan. Since then, he drove for Junior Johnson, Richard Jackson, and became an owner-driver at one point. By 1993, most of the so-called experts felt that the 38-year-old Labonte was "over the hill" since he hadn't won since 1989. He was sponsored by Kelloggs, but his results were less than stellar. Rick Hendrick decided to give him a chance. He could revive his career and maybe help Jeff Gordon make the transition from rookie of the year to contender. Kelloggs moved over to the #5 car with Labonte after the 1993 season concluded.

The 1994 season would be a great season for Hendrick Motorsports. Although he didn't win a race, Ken Schrader finished fourth in the points standings. Kodiak was soon eased out as sponsor of Schrader's car in favor of Budweiser. For the St. Louis native Schrader, teaming up with Budweiser was a natural fit. Labonte would visit victory lane three times and finish seventh in points. 'The Iceman' was back. Jeff Gordon would pick up his first win at Charlotte and then surprise the racing world with a victory in the inaugural Brickyard 400 at Indianapolis Motor Speedway. During the season, the R&D shop was hard at work developing a new Chevrolet race car. The Lumina was being fazed out at the end of the season in favor of the Monte Carlo. Extensive wind tunnel testing was performed on the prototype car. By mid-summer, it was ready. Hendrick Motorsports had the advantage with the new car since they developed it. While a championship is the goal every season, nobody could have expected what occurred in 1995.
Jeff and Rick celebrate the 1995 Winston Cup championship

Gordon won early and often in 1995 picking up wins at Rockingham, Atlanta, and Bristol in the first six races. He would go on to win eight events and foil Dale Earnhardt's attempt to win his eighth title. Gordon also gave Rick Hendrick something he desperately wanted; a Winston Cup championship. By winning the 1995 title, Hendrick proved the critics wrong. They said a multi car team couldn't win and he proved that it could. Labonte would score another three victories in 1995 and finish sixth in points. Gary Dehart came on board as crew chief and worked magic for Labonte the following year. As for Ken Schrader, 1995 was a struggle. The #25 car fell to 17th in points with no wins and only one top five finish. For 1996, Gordon's crew chief, Ray Evernham, would also be the team manager for the Budweiser car. Something had to be done to improve the performance of the #25 car. But, it was likely a factor in Schrader leaving Hendrick Motorsports after that season.

Hendrick Motorsports began fielding a "supertruck" in the NASCAR Craftsman Truck Series in 1995. Scott Lagasse was the initial driver. Jack Sprague took over the following year and won the series title in 1997.

As for the 1996 Winston Cup season, defending Winston Cup champion Jeff Gordon got off to a rocky start in 1996. After two poor finishes to start the year, the team rebounded with a ten win season. Labonte put together his most consistent season in his career and led the point standings over Gordon heading into the final race of the year. Before the race, Hendrick simply told his drivers, "Don't wreck each other." Labonte would go on to win the Winston Cup title with Gordon finishing second. The #25 team struggled through 1996. While leading the Coca Cola 600 at Charlotte, Schrader's engine blew near the end of the race; the ultimate racing disappointment. His team manager, Ray Evernham, had asked him to go on a diet and take up a training program. Suffice to say, that didn't sit well with Kenny. But, he left the organization with no ill will. He hasn't won a Winston Cup event since 1991, but he'll always be a winner nevertheless.

For as great as Ken Schrader is on the track, he's better off of it.
Ken Schrader, Jeff Gordon, and Terry Labonte with Rick Hendrick in 1995

At Talladega in 1995, the 23-year old Gordon accidentally tapped the left rear of Schrader's car. The Budweiser Chevrolet barrel rolled down the backstretch flipping end over end. After watching his teammate's car flip end over end, Gordon wanted to park his car for day; he didn't want to continue the race. As Rick Hendrick recalled, "Jeff got on the radio and thought that he killed Kenny." The team worked to calm the young driver down, but it wasn't until Schrader spoke to him did he feel that he could continue. After being released from the infield care center, the first place that Schrader went was to the DuPont pit area where he spoke with his teammate on the radio assuring him that he was alright. That's the mark of a teammate; but it's also the mark of a good friend.

In December 1996, Rick Hendrick was once again sitting at the head table at the New York awards banquet after Terry Labonte won the Winston Cup title. However, all was not right with the world at that point. A month earlier, he was diagnosed with a form of leukemia that was unknown to the NASCAR community at that point. During the week of the awards banquet, he was named, along with over eighty other automotive dealers, in a kickback scandal involving his auto dealerships. Of the 80 other Honda dealers named, only a handful were ever prosecuted. Was Hendrick singled out because of his name? Without a doubt.

The scandal had to do with imported cars during a time when imports were scarce. During that time, he gave auto executives gifts. But, gift giving for him was nothing new. Everyone who has worked for Rick Hendrick says that he is a delight to work for because he treats his employees well. He openly gives gifts and doesn't expect anything back in return. Sadly, such an action was perceived as a "bribe."

When the government tried to rush the case to trial, Hendrick's lawyers requested a change of venue. It was at that point the NASCAR world learned that the car owner had a form of leukemia. With an overzealous prosecutor breathing down his neck, not to mention a body wracked by ulcers and drug cocktails to combat the leukemia, a plea bargain seemed the only option. On December 31, 1997, he accepted the penalties of a fine, three years probation, and a year of house arrest.

The 1997 season would be a difficult season for the organization. While they were on top of the NASCAR world with two consecutive championships, the leader was missing. To replace Ken Schrader, Ricky Craven was hired. Craven showed a great deal of promise driving the #41 Kodiak car the previous season. In February, the teams headed to Daytona for the Daytona 500.

Rick Hendrick was home in Charlotte undergoing treatment while his race teams were in Daytona. He spoke with his drivers on the phone, but it wasn't the same as being there. The teams knew that and wanted to show their support for him in some way. But how?

In a remarkable finish, the three Hendrick Motorsports drivers finished 1-2-3 in the race. It was the first time that three team cars finished in the top three positions. Hendrick Motorsports general manager Jimmy Johnson called Rick Hendrick on his cellular phone after Jeff Gordon crossed the finish line. Pulling into victory lane, he noticed Johnson on the phone and knew who he was talking to. Gordon grabbed the phone and started screaming, "We won the Daytona 500!" In victory lane, the three drivers held up a sign "Rick, This One's For You." Truly the best medicine he could have received that day.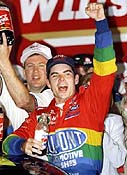 Jeff celebrates another victory

As the season unfolded, Gordon drove away from the competition. He would go on to win the Winston Million, ten races, and the season championship. Labonte would struggle in the first half without a win and crew chief Gary Dehart soon departed. Engine builder Randy Dorton took over as interim crew chief and Terry won at Talladega in October. For the #25 Budweiser car driven by Ricky Craven, it would be an uphill battle. Craven was injured after a hard crash at Texas and suffered concussions in Atlanta and Phoenix. At the awards banquet in 1997, the winning car owner was absent. It didn't go unnoticed by the champion, Jeff Gordon.

Rick's father, 'Papa' Joe, accepted the car owners trophy on behalf of his son while Rick's wife, Linda, spoke to the banquet guests. When the champion came up to the podium to speak, images of his car owner likely passed through his mind. Gordon concluded an emotional fifteen minute speech by dedicating the title to Rick Hendrick.

As 1997 turned into 1998, Rick continued to battle leukemia. Under terms of his plea bargain late in 1997, he couldn't maintain day-to-day control of his racing operation. His brother, John, would take over as CEO in 1998.

In August 1998, after a difficult season, Ricky Craven resigned from Hendrick Motorsports. For Rick Hendrick, the loss of Craven had to be difficult. He recruited the driver but wasn't able to attend a race that Ricky drove for him. After leaving, Craven said in reference to Rick Hendrick, "When times got tough, we needed the respect of a leader, and our organization was missing that." Wally Dallenbach took over as driver after Craven resigned from the Budweiser team. In October 1998, Dallenbach was named as the team's permanent driver. Terry Labonte struggled through 1998 and 1999. New crew chief Andy Graves, along with several other new team members, have the #5 car poised for a strong 2000 season. Time will tell how strong it will be.

Jeff Gordon kept the organization on top in 1998. He won a modern era record tying 13 races and the Winston Cup title. He had a lackluster start to the season but came on strong as the summer arrived winning seven out of eleven races at one point. He closed out the season with victories in three of the final four events, including winning the inaugural Daytona race under the lights.

The 1999 season began with signing of Advance Auto Parts as a new associate sponsor. The teams were boosted by the return of Rick Hendrick. He travelled to Daytona for qualifying in February and was there to congratulate Gordon for winning the pole position. However, after feeling weak, he returned home and was unable to be in Daytona when Gordon held off Dale Earnhardt to win the 1999 Daytona 500. As the year progressed, Gordon would have his ups and downs. A blown engine at Rockingham, wrecks at Talladega and Texas, along with problems at Richmond and Charlotte cast doubt on a fourth title for the DuPont team.

Rick Hendrick returned to victory lane when his 18-year-old son Ricky won a late model event at Concord Motorsports Park. Throughout 1999, the younger Hendrick made several starts in the Gordon-Evernham Motorsports Chevrolet on the Busch circuit.

Hendrick Motorsports was instrumental in developing the 2000 Chevrolet Monte Carlo. The R&D Department worked to build the superspeedway version of the car that will begin competing in the year 2000. With the success of the organization, other race teams have begun "raiding" the shop by offering promotions and higher salaries. However, the talent roster is deep at Hendrick Motorsports. Other race teams often bid on the chassis setups that the R&D department disregards. The engine department at Hendrick Motorsports is headed by Randy Dorton. Other race teams often lease engines from the organization on a per race or season basis. Ernie Irvan's Skittles team, a number of Busch teams, and Craftsman truck series teams lease engines from them. When an engine leaves the shop, a Hendrick engineer trails it. Lest anyone attempt to dismantle it to find the secret of speed within.

Rick Hendrick's battle with leukemia has resulted in a greater awareness of the disease. His drivers have held marrow typing drives and have donated countless hours to raising public awareness. The 1-800-MARROW-2 bone marrow awareness information number is displayed on all three Hendrick Motorsports cars. The NASCAR world has embraced the cause with open arms.

Hendrick Motorsports has always been about ideas. One of the ideas was that a multi car team would win a NASCAR championship. When it was first proposed, the critics laughed; they're not laughing anymore. Ideas are what the R&D shop at the motorsports complex is about. Constantly trying to improve on what is. That's the basis of research and development. Simply put, the organization is about a commitment to constant improvement. The commitment is funneled down from the top.

According to the now-former Hendrick Motorsports general manager Jimmy Johnson, the question that Rick Hendrick constantly asks of anything is, "Will it help the team run faster?" Difficult decisions can be made by answering that question. The team hated to lose Geoff Bodine as a driver. Bodine had brought them into Winston Cup racing and had brought them to victory lane. He brought them respectability in the sport. But, a change was needed at the time to help the team run faster.

Loyalty is important in anything endeavor. Knowing you have the support of those around you can make a world of difference. Those that know him say that Rick Hendrick is the most loyal person in the world. He could go out and hire the best and the brightest in the NASCAR world. To some degree, he does. But, the organization promotes from within. Not just Hendrick Motorsports, but the Hendrick Automotive Group as well. When Jimmy Johnson went to work in one of Rick's dealerships, he was told that he'd have his own store in three years; and he did.

What does the future hold for Hendrick Motorsports? Well, there are no signs of slowing down. The three Winston Cup teams are backed by Fortune 500 companies and the Craftsman Truck team is among the best in that series. The innovations that come out of the R&D department lead the way in racing. The key to future success will be keeping the group together. It sounds a lot easier than it actually is though. Gordon's crew chief, Ray Evernham, has talked openly about becoming a team owner and retiring as crew chief. Evernham and Gordon already own a Busch team with bigger plans on the horizon.

Hendrick Motorsports has come a long way since the days of 'All Star Racing' back in 1984. A visit to Harrisburg, North Carolina proves that. When the team started, they built the cars in a small garage leased from Raymond Beadle. Now, they have a sprawling complex with buildings for the engine department, R&D, the race shops, and even a museum complete with a gift shop.

The success couldn't have been possible without the great drivers, crew chiefs, engine builders, and support staff of the operation. But, more than that, it couldn't have been possible without the vision of one man. A man who listened to the critics but never backed down from what he believed in. A North Carolina auto dealer who helped bring NASCAR to Hollywood, thereby opening the floodgates for legions of new fans. To Rick Hendrick, thank you for everything you've done for NASCAR racing.




Links of Interest

Jeff Gordon | Terry Labonte | Wally Dallenbach | Ricky Craven | Ken Schrader | Ricky Rudd | Darrell Waltrip | Tim Richmond | Geoff Bodine

The National Marrow Donor Foundation |




For more information about bone marrow awareness, please call 1-800-MARROW-2




---
Jeff Gordon Online Index page
---
Copyright ©1998-2002 Jeff Gordon Online
All rights reserved.
Do not duplicate this text in any form without
prior written permission from the author.
Unauthorized duplication is a violation
of United States copyright laws.