Remembering Tim Richmond
By Jim Kerekes
jkerekes@prairie.lakes.com
---

(June 25, 1998)- - It has been almost 11 years since Tim Richmond raced in a NASCAR event. Recently, a group of fans requested that the Pocono 500 at Pocono Raceway on June 21 be dedicated to Tim Richmond, the very same track where Tim won 4 of his 13 Winston Cup victories. NASCAR and Pocono Raceway ignored their requests, just as they have practically denied Timís existence in the sport since his passing on August 13, 1989. Before the race started on Sunday, the forecast was for sunshine throughout the afternoon. Rain wasn't even an issue in the pre-race forecast, but the storm clouds came in. It was as if someone "up above" had said, "You can choose not to honor my memory. So, how about a little rain on your parade?"
When I think of Pocono, I think of Tim Richmond. When I see the #25 Hendrick car, I think of Tim Richmond. Tim was, without a doubt, one of the best drivers to ever compete in NASCAR. I have never seen another driver with so much natural driving talent as Tim.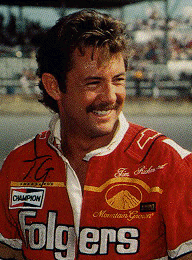 He could make a stock car do things that no one else could; he would run high, run low, basically anywhere he wanted to go. Anyone who raced against Tim knew he was a real threat to win anytime and at any track. He always pushed the car to the edge, just like he lived his life, burning the candle at both ends. Unfortunately, Tim was taken away from us much too early in life, one of the countless victims of AIDS. NASCAR has shunned Tim since learning that he had the virus, but his peers have voted him as one of the 50 top drivers in the history of NASCAR.

Tim didnít start racing until the age of 21. He ran his first laps in a friendís sprint car on what was supposed to be a lark. Tim was soon turning laps faster that the regular driver. He was hooked, this is what he wanted to do with his life. During the late 70ís and early 80ís, Tim raced Mini Indy cars, USAC sprint cars, eventually moved up to Indy cars. After an impressive debut in the 1980 Indy 500, Tim earned Rookie of the Race honors. One of those in attendance that day was Dr. Joesph Mattioli, founder and president of the Pocono Raceway in Pennsylvania. Dr. Mattioli was so impressed with Tim that he asked if he might be interested in driving a NASCAR stock car race there that July. Tim took him up on his offer. Tim finished 12th in the Pocono race that year in the DK Ulrich owned entry, and he never looked back. He would later describe the difference between Indy cars and stock cars as being that you "drove" an Indy car, but "raced" a stock car.

Tim began driving full time in Winston Cup in 1981 for DK Ulrich, then moved on to other teams during that year. Driving for Ulrich, Kennie Childers, and Bob Rogers, Tim had 6 top 10ís in 29 starts and wound up 16th in the points in 1981. He was without a ride in the 1982 season, but his fortunes were about to change. Joe Ruttman had a falling out with car owner JD Stacey, who then gave Tim a ride in one of the two teams that he owned. At Pocono that year Tim Richmond was engaged in a battle with Bobby Allison for the win. Tim might have won the race that year, as Bobby Allison had run out of fuel trying to stretch his gas mileage. Dave Marcis pushed Allison back to the pits, and Allison went to win by 3.1 seconds over Tim. But in the very next race that year in Riverside, Tim out drove Terry Labonte for his first win. After making the decision to leave Stacey at the end of the season to drive for Raymond Beadleís new Blue Max team, Tim went out in style, winning the season ending race at Riverside, completing the sweep. Richmond had 2 wins, 7 top 5ís and 12 top tens that year, placing him 26th in points in only 26 starts in 1982.

Racing for the Old Milwaukee beer sponsored Blue Max team in 1983, Tim won one race, which just happened to be at Pocono. He finished the season with 10 top 5ís and 15 top 10ís, placing him 10th in the points that year. He signed on to drive for Blue Max again in 1984, winning another race, with 5 more top 5ís, 11 top tenís and a 12th place finish in the points battle. Many drivers would be happy with those numbers, but Tim was wanting more. Little did he know then that good times were on the way. He drove one more year for Blue Max in 1985, although he didnít have any wins that year, he finished with 3 top 5ís and 13 top 10ís, good enough for 11th place in the points. It was also good enough to catch the attention of Rick Hendrick, who realized that with the right team, Timís potential was unlimited.

Tim signed with Hendrick in 1986 to drive the #25 Folgers Coffee car. After a slow start to the season, Tim came on strong and was a serious contender for the Winston Cup championship that year. Richmond won both Pocono races in 1986, a track where he was clearly dominant. Tim went on to win a total of 7 races and had 8 polls in 1986, more that any other driver. Even though Tim had 13 top 5ís and 17 top 10ís in 1986, a series of mechanical mishaps near the end of the season placed Tim a disappointing 3rd in the points that year, only a mere 6 points behind 2nd place Darrell Waltrip. Dale Earnhardt won the championship that year. It was the only championship that Earnhardt won while Richmond was on the track for a full season.

Just as Timís future seemed so bright, the 1987 season brought disaster. He was diagnosed with HIV during the winter of 1986, but the racing world was told that he had double pneumonia. Tim was so sick that he missed most of the early part of the season. During a spring test session, he was too weak to run the outlined distance. His first full length race of 1987 came at Pocono in June. In triumphant style, Tim held off a hard charging Bill Elliot for the win and admitted to reporters that he never even saw the checkered flag with all the tears in his eyes. In victory lane, Tim was so emotional that he was reduced to speechlessness for one of the very few times in his life. Little did anyone know at the time that Tim was a dying man. The very next week Tim Richmond fought off Ricky Rudd for his last Winston Cup win, at Riverside. Tim dedicated the Fatherís Day victory to his Dad. However, the effects of the illness began to take its toll on him. By August, NASCAR said that he "was in no shape to drive a car." Richmond resigned from Hendrick Motorsports in the fall of 1987.

Tim tried one more comeback in February 1988, at the Busch Clash in Daytona. But rumors were flying around the garage that Tim was a drug user. NASCAR then developed its first drug testing policy, which some felt was designed to oust Tim from the sport. He stopped taking his medication in order to be clean for the test. NASCAR suspended him two days later for testing positive for a banned "substance." Days later, NASCAR announced that the first test detected nothing more that an over the counter cold medicine, Timís second test was clean. But the damage to Timís character had already been done. NASCAR would not let Tim race until he turned over his medical records. To this date, it seems that Tim Richmond has been the only driver to have ever taken a NASCAR drug test.

Tim tried desperately to find a ride for the Clash and several car owners wanted to help him. However, NASCAR didnít want to see Tim in a car. Tim never did get a ride for the Busch Clash in 1988, instead he hired a plane to fly over Daytona displaying a banner that read "Fans, I miss you -Tim Richmond." Tim died on August 13, 1989 in south Florida. Few from the NASCAR world wanted anything to do with him that final year, because of the stigma and ignorance of AIDS. Kyle Petty said, "It all boils down to AIDS. I donít care what anybody tells you. Nobody knows how to handle AIDS, especially in a sport as backward-thinking on so many things as this sport is."

As for NASCAR Inc, theyíre a rotten crowd. Tim Richmond was, to paraphrase F. Scott Fitzgerald, worth the whole damn bunch of them put together. Tim, we the fans of NASCAR, miss you.







---
Previous Features
Index Page
---
Copyright ©1998 gordonline.com.
All rights reserved.
Do not duplicate this article in any form without
prior written permission from the author.