1997 JG Images

Note: Pictures may take longer to appear based on the speed of your modem. Please be patient.... they're worth it.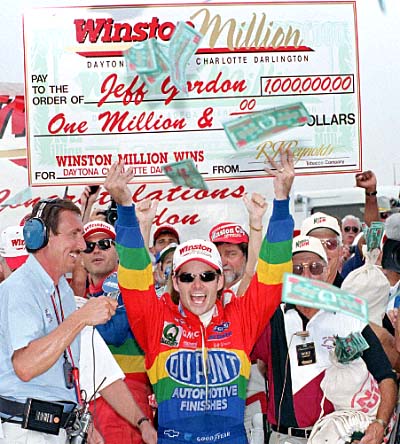 Jeff holds the million dollar check after winning the Southern 500

Picture is ©1997 AP. All rights reserved.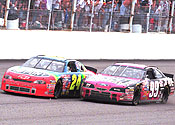 Jeff Gordon and Jeff Burton fight for the lead on the final lap of the Southern 500

©1997. Askew Networks Inc. All rights reserved.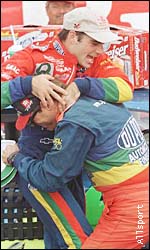 Jeff jumps on Ray after capturing his first career win on a road course

Note: Picture is ©1997 Allsport. All rights reserved.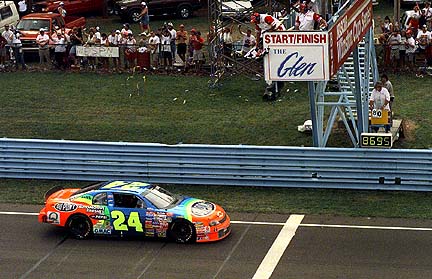 Jeff takes the checkered flag at Watkins Glen in August 1997.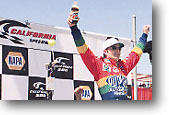 Winner of the inaugural California 500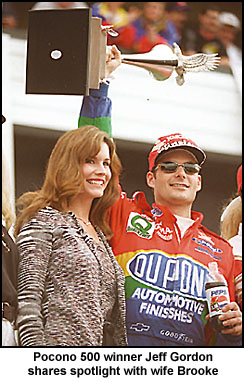 Note: Pocono picture is ©1997 by Alan Turbitt Photography. Honesdale, Pennsylvania. Used by permission.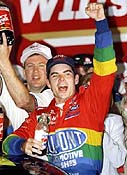 Victory in the 1997 Coca Cola 600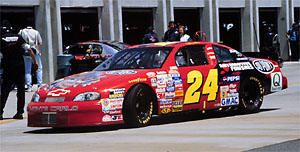 The most dominant car NASCAR had ever seen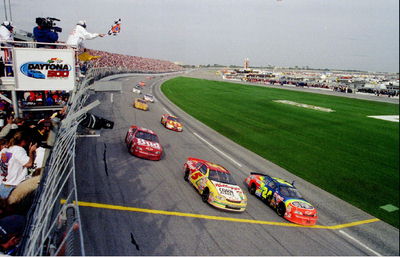 Jeff leads teammates Terry Labonte and Ricky Craven to the checkered flag at Daytona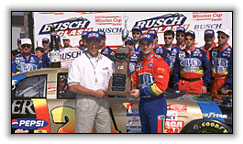 Winner of the Busch Clash
Back to the JG Image Galleries
---
HOME
To my knowledge, all images not otherwise specified contained herein were gathered from 'public domain' sources on the internet. If the photographer or creator of any of these images would like credit for use, contact me through e-mail.
---
Copyright ©1998 Jeff Gordon Online
All rights reserved.