1998 Pictures


Note: Depending on the speed of your modem, pictures may take longer to appear. Be patient.....they're worth the wait.
---
Jeff wins the ESPY Award for 1997 Auto Racer of the Year
The Rainbow Warriors at work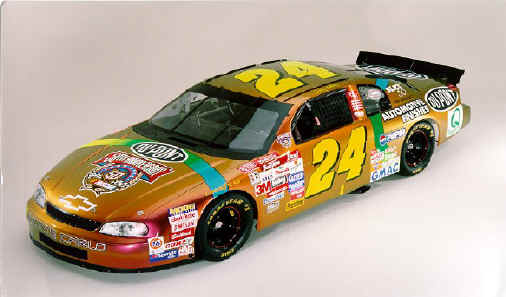 The ChromaLusion car used in The Winston
Winner of the Coca Cola 600 in May at Charlotte
Victory lane after winning at Sears Point in June
Jeff and Brooke celebrate in victory lane at Pocono in July
Winner of the Brickyard 400 and $1.6 million
Jeff's third win in a row... Watkins Glen in August
Four In A Row... Michigan in August
Jeff wins the Pepsi 400 at Daytona in October
Jeff wins the AC Delco 400 and the 1998 Winston Cup title
Back to JG Image Galleries
Back to Index page
Copyrighted photos have been noted and credit has been given to the creator. Others were emailed to me or gathered from public domain outlets on the internet.
---
Copyright ©1998 Jeff Gordon Online
All rights reserved.