---

It seems like yesterday, but it was long ago. The scene was Atlanta Motor Speedway in November 1996. Hendrick Motorsports teammates Terry Labonte and Jeff Gordon were battling for the Winston Cup title. It would be the second championship in as many years for the organization. Rick Hendrick was on top of the NASCAR world. Then things started to unravel; both personally and professionally.

The founder of Hendrick Motorsports was stricken with a form of leukemia late in 1996 and has been battling the disease at home. He attended the Winston Cup awards banquet in December 1996 and sat at the head table as Terry Labonte was awarded the Winston Cup title. Since that time, his health has failed and he's had his share of legal trouble. To the fans that only recently became interested in NASCAR racing, it is likely that they've only recently seen him at the track with his drivers.

For the newer fans, and also for those that remember the days, this is part one of the history of Hendrick Motorsports covering 1983-1990. The link to part two covering 1990-1999 is at the bottom of the page.
---
J.R. (Rick) Hendrick III grew up around fast cars. Born and raised in North Carolina, that was only natural. He played baseball and wasn't too bad.

Rick attended North Carolina State University on a work study program with Westinghouse and simultaneously played professional baseball in the Pittsburgh Pirates farm system. Though he soon realized that his future would not be in the major leagues and began selling cars. By the time he graduated from N.C. State, he purchased his first auto dealership. At the age of 23, he became the youngest Chevrolet dealer in the country with his dealership in Bennettsville, South Carolina. Through the 1970's, his automotive empire grew. Soon there were Hendrick Imports and by the 1980's, he was one of the largest car dealers in the nation as the CEO of the Hendrick Automotive Group. But, speed was in his blood.

It first came in the form of boats. He's driven drag boats at 170 miles per hour and was the owner of "Nitro Fever," the boat that set the world propeller-driven craft speed record at 222.220 miles per hour in the quarter mile. However, when his best friend, Jimmy Wright, was killed in a boating accident, he changed gears. In 1983, Rick was looking for a place to store his boats in the Charlotte, North Carolina area. Harry Hyde, a NASCAR crew chief who had since retired, had storage space. At the time, Hyde thought that Hendrick was interested in racing and told him that if Hendrick would build a car, Hyde would make sure it visited victory lane. In 1983, Rick joined with entertainment entrepreneur C.K. Spurlock to start a NASCAR race team. It was a bold undertaking for the auto dealer. He built an automotive empire, but racing was another world entirely. He would need the help of people that knew the racing business.

C.K. Spurlock was a natural partner in the venture. Before becoming an entertainment mogul, Spurlock served as the head of public relations for International Raceway Park in West Virginia. Back then, the NASCAR series raced at the West Virginia track and Spurlock made important contacts in the industry. Hendrick would also need someone that knew the technical side of NASCAR racing inside and out. That was Harry Hyde.

Hyde was one of the most revered crew chiefs in NASCAR history. In terms of setting up a car to suit the track, Hyde was considered one of the best. He retired from NASCAR racing in the early 1980's content to spend his time on the farm. Many in NASCAR felt Hyde was "over the hill" at that point; they were wrong. The new race team, called 'All Star Racing,' still lacked a driver and a sponsor. That would soon change as the 1983 NASCAR season drew to a close.

Geoff Bodine was a modified star from New York who migrated to North Carolina in the late 1970's. He drove the #88 Stewart/Gatorade car to the rookie of the year title in 1982. Late in 1983, he abruptly left that team to join the newly formed 'All Star Racing' team owned by Rick Hendrick and C.K. Spurlock. Though lacking a major sponsor, the team began preparing for the 1984 season. It would be a season that put Rick Hendrick's name on the NASCAR map.

They arrived at Speedweeks 1984 in Daytona International Speedway with an old crew chief, no sponsor and a driver without a career victory. The 'All Star Racing' car was #5 and sponsored by Hendrick's City Chevrolet dealership in Charlotte, North Carolina. Associate sponsorship was provided by Northwestern Security Life. The first race the team ran was the 1984 Busch Clash. Bodine finished a strong fifth and finished fifth in the 125 mile qualifying race for the Daytona 500. The season started out with finishes of 8th, 9th, and 6th. It was a promising start for a new team. However, a major breakthrough was just around the corner at Martinsville where Bodine put the All Star Racing car in victory lane for his first NASCAR victory. The win put the team on the Winner's Circle program, worth an additional $100,000 throughout the season. After that first win, Bodine said, "Without this man (Harry Hyde), we wouldn't be here right now. That's why I left a real good team last year to join this one." Bodine would go on to win three races and collect three pole positions including a season-ending win in Riverside, California. For a first year team, that kind of success was simply unheard of. As the season concluded, the team secured a major sponsor. Levi Garrett tobacco would sponsor the #5 car in 1985 and beyond. It was the sign of big things to come, much bigger things to come.

By this point,

The Levi Garrett Chevrolet

All Star Racing had become Hendrick Motorsports with Rick Hendrick the leader of the organization. Despite running strong all year and finishing fifth in the final points standings, the #5 Levi Garrett Chevrolet never visited victory lane in 1985. At the end of the 1985 season, it was announced that Hendrick Motorsports would become a two car team in 1986 with Bodine being joined by Tim Richmond. Hendrick had signed Proctor and Gamble's Folgers coffee to sponsor his second team. When the sponsored balked at the driver choice, Hendrick said that Richmond was his driver. Rick loved his flamboyance. Richmond would often say "Let me get at it, and I'll show you how to win races." In time, he did.

The cynics laughed, 'a two-car team was impossible in NASCAR' they screamed. Gene Granger of Winston Cup Scene wrote that only proven veterans, such as Neil Bonnett and Darrell Waltrip, could make a two-car team successful. It wasn't the first time and it wouldn't be the last time that Rick Hendrick would prove the critics wrong.

Hendrick asked Jimmy Johnson to run one of his car dealerships in Florida in 1985. In November 1985, less than a month after the dealership opened, Johnson received a call from his boss that would change his life. Hendrick asked Johnson to help in his racing operation. At the time, Dillard Hatfield was managing the operation and had his hands full. Hatfield was the office manager of City Chevrolet in Charlotte and was also handling the account for the NASCAR team. In addition, with the addition of a second team, personnel had to increase; organization was needed. Johnson was the perfect organizer. With the addition of another race team, organization became crucial to success.

Gary Nelson was a crew chief who had been around the block a few times in the NASCAR world. He helped Darrell Waltrip to victory lane in the late 70's and crew chiefed Bobby Allison to the 1983 championship. However, DiGard Racing had always been an organizational mess. Bill and Jim Gardner used racing as a tax write-off. It was for fun and they enjoyed the success. But, Nelson could see the team was crumbling after Bobby Allison angrily quit in 1985. (Allison quit after DiGard added a second team with Greg Sacks at a time when multi car teams were like the plague) Hendrick hired Nelson late in 1985 to join his growing motorsports team. Nelson became Bodine's crew chief on the Levi Garrett car and Harry Hyde moved over to be the crew chief on Tim Richmond's #25 Folgers car.

Tim Richmond was a character.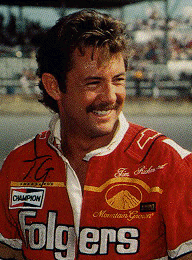 He lived life to the fullest every day. When Jimmy Johnson went down to Florida to deliver a car to Richmond on his yacht, he saw firsthand how Tim loved to live on the wild side. Johnson asked Richmond to drive him to the airport; it was a drive that Jimmy would not soon forget. They were running late as it was, but Tim decided to stop for coffee; at a topless coffee shop. Finally they made it to the airport but the adventure was not over. When a taxi cab blew a horn wanting Richmond to move from the terminal, Tim threw the car in reverse and creamed the front of the cab. The cab driver then tried to escape and found Richmond chasing after him. (You might remember a similar scene from the movie 'Days of Thunder.' More on that later) Despite the harrowing adventure, Johnson knew that 1986 would be a good season. After all, he thought, anyone who could drive a street car like that could certainly terrorize the NASCAR world. He would go on to do it in style.

The 1986 season didn't get off to the best start for the 25 team. Richmond crashed in a qualifying race before Daytona and injured his leg. Soon after, Tim complained Harry wasn't setting the car up properly and Harry was complaining that Tim wasn't driving properly. However, the Levi Garrett team was on top of the world after Geoff Bodine outlasted Dale Earnhardt to win the Daytona 500. Bodine would win two races in 1986 and thoroughly get under the skin of Dale Earnhardt. When asked about Bodine, Earnhardt said, "I'd like to ask him to go hunting with me. Except I can't say it with a straight face. I'd make him wear antlers. You know, hunting accidents do happen." Clearly the northern born and bred Bodine had gotten under the skin of 'The Intimidator.' As the spring became summer, the other Hendrick Motorsports car began to heat up. It took almost half a season, but Hyde and Richmond were now on the same page. One of the defining moments came at North Wilkesboro that year. The team had gotten off to a less than sparkling start. Hyde knew Richmond could drive and Richmond knew Hyde could call a race. But, they each had their own styles. During a North Wilkesboro test session, Hyde told Richmond to run 50 laps any way he wanted. After that, he'd run 50 laps the way Hyde wanted him to run. He bet that his way would yield faster times and save the tires. Richmond went out on the track and ran 50 laps his way; the tires were shot. He then ran 50 laps Harry Hyde's way. It wasn't even close; Hyde's way resulted in faster lap times. Richmond was sold on it from there.

Richmond would go on to win seven races and capture eight pole positions in 1986. He finished third in the final standings. After winning the final race of the season at Riverside, Richmond said, "I don't know what a championship feels like. But Harry Hyde and the crew have given me a third place finish this year that feels like a championship. This was our first year together and we won the most races. But let me tell you, third place won't be good enough next year." Sadly, he would never get the chance to win a championship after that. Late in the 1986 season, Hyde noticed that Richmond didn't look well. At the time, he chalked it up to stress. But, it would turn out to be more than that.

As the 1986 season concluded, Rick Hendrick was about to step up his motorsports operation. Gary Nelson left Geoff Bodine as crew chief to head the Hendrick Motorsports Research and Development area. But, that wasn't the 'big news.' The 'big news' was that the 'Dream Team' was about to be formed. Darrell Waltrip was leaving Junior Johnson's team. Waltrip had won the 1985 championship and needed a fresh start after a frustrating 1986 season.

The critics laughed when Hendrick announced the formation of a third team in his stable. "You can't win with two, what good will three do?" was a familiar refrain among many in the racing media. Veteran engine builder Waddell Wilson was working for Harry Ranier's team in 1986. Hendrick knew that Waddell built engines for Darrell when he first started. Wilson got an offer he couldn't refuse. The 'Dream Team' was in place. As 1987 dawned, expectations were high. However, there would be a derailment.

Waddell and Darrell fought the entire year. One blamed the other for problems with the car. In addition, Tim Richmond was unable to start the season in the #25 Folgers car. He was in an Ohio hospital with what was described as "double pneumonia." Veteran driver Benny Parsons was hired and stepped into Tim's car. When Benny talks about his career on ESPN these days, he might underrate his abilities. But the 1972 Winston Cup champion was a great racer. In the 1987 Daytona 500, he finished second to the Bill Elliott juggernaut. It looked as if Hendrick Motorsports might win its second consecutive Daytona 500, but Geoff Bodine ran out of gas with three laps to go while leading the race.

At Riverside in November 1987, Rick Hendrick stepped behind the wheel of the #25 car. He started in twenty-first position and was running in the top ten when suspension problems put him out on lap 75. In 1988 at Riverside, Hendrick made his second career Winston Cup start. He qualified 13th and finished 15th. He could hold his own, no doubt about it. How many current car owners can say they've been in a NASCAR race? Besides the current owner-drivers, there's Richard Petty, Cale Yarborough, and Richard Childress that head a short list that includes Rick Hendrick.

As the 1980ís progressed, Hendrickís automotive business grew exponentially. He had risen to the number one position in used car sales in the country. His racing organization was the most well-funded group on the NASCAR circuit. When an opportunity to bring NBA basketball to the Charlotte area came up, Rick jumped at the chance. Felix Sabates and George Shinn were the original founders of the Charlotte Hornets basketball team. They were later joined by Hendrick and Cy Behackle. Soon after, Shinn bought his three partners out for complete ownership of the team.

The 1987 season would prove to be an up-and-down year for the organization. Darrell Waltrip's team struggled through their first season with Hendrick. Benny Parsons did an admirable job behind the wheel of the Folgers car, but he wanted to concentrate on his broadcasting career in the near future.

During 1987, Rick flew to Ohio several times to visit with Tim Richmond. Richmond had been diagnosed with HIV, but couldn't tell the public because of the stigma in those days. Has the climate changed since then in regard to HIV? More than likely, but there is still work to be done. Richmond felt healthy enough to return in June and won two races that month. However, he resigned from Hendrick Motorsports in September. His health was failing as the HIV virus wracked his immune system. After NASCAR claimed that he failed a drug test in February 1988 (he was cleared later), Richmond sued. The suit was settled out of court and he dropped out of sight. He died in August 1989 from AIDS; he was only 34 years old.

Chevrolet told Hendrick to sell one of his teams. They believed that four was too many for one owner. (In the late 90ís, Ford gave Jack Roush carte blanche to have a five car team.) Rick sold the fourth team to Felix Sabates who needed a team for his new driver, Kyle Petty. Gary Nelson, who had been working in the R&D department, left to join the new Sabates team.

In 1988, the organization regrouped. Ken Schrader came in to drive the Folgers #25 car with Harry Hyde as crew chief. Harry helped Kenny's career that season. But, he must have wondered what could have been if only Tim Richmond was still around. The team seemed on the brink of greatness with Richmond but never got the opportunity to make a championship run after 1986. Schrader had a decent first half, but didn't light up the track by any stretch. However, he put on a show at Talladega in July. There were ten cars battling for the lead on the final lap. Schrader was able to sneak by the crowd to win the race by a few feet. At the end of 1988, Harry Hyde quit as crew chief. The three car team left him feeling ignored at times and he went to work for the Stavola Brothers. Richard Broome stepped in as crew chief after Hyde left.

Ken Schrader captured the pole position for the 1989 Daytona 500 and Darrell Waltrip, reunited with crew chief Jeff Hammond, won the race. After 17 tries, DW won the "Great American Race" driving car 17. That victory did more for Proctor and Gamble's Tide than any marketing campaign could have. The 'Tide Ride' was in victory lane at the Daytona 500 on national television. Through the season, the organization had its share of turbulent moments. Waddell Wilson moved from Darrell's car to become Bodine's crew chief. It was like oil and water. At the end of the season, Bodine fled to Junior Johnson's #11 car.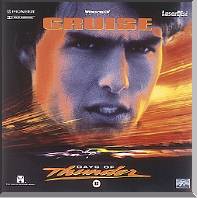 The 1990 film 'Days of Thunder' starring Tom Cruise

During this season, Rick Hendrick's interests shifted toward Hollywood. "Days of Thunder," a NASCAR related film starring Tom Cruise was to begin filming that summer. Because of Hendrick's involvement with the script, more than a few scenes from the film are based on actual events. The trouble with a two-car team, convincing a veteran crew chief to come out of retirement, the 50 lap tire test, and the 'airport scene' where Cruise crushes the front of a cab with his rear bumper. All inspired by actual events. There's a lot of Tim Richmond in that film. Not literally, but figuratively.

For the filming, stunt cars would be used in actual NASCAR races. Hendrick was responsible for preparing the cars and finding drivers. He asked Darrell Waltrip about possible drivers for the stunt car. Waltrip had just returned from an exhibition race in Tennessee. He raced against a local driver who gave him all that he could handle. The local driver was Bobby Hamilton. After a call from Hendrick, Hamilton accepted the part. He needed a break to get into the sport and thanks to Darrell Waltrip, he found it. Hamilton drove a Hendrick-prepared car in a few races in order to get footage for the film. At Phoenix, Hamilton took the lead of the race. But NASCAR wouldn't allow a movie camera car to win so they black-flagged him.

The film was released in the summer of 1990. NASCAR soon found itself on the silver screen and new fans began gravitating to the sport. Tom Cruise was the matinee idol star of the film. Within a few years, NASCAR would have a Tom Cruise-like star within their midst. The driver, in a Rick Hendrick owned car, would rewrite the record books for years to come.