New Eyes In The Sky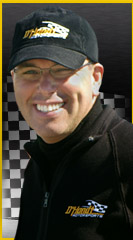 Eddie D'Hondt

The spotter's role in a NASCAR race is often overlooked. After all, the driver and crew chief tend to get the lion's share of the credit for race victories. But make no mistake, without a good spotter, the driver likely wouldn't see victory lane. Eddie D'Hondt has served as a spotter for some of NASCAR's most recognized names: Bill Elliott, Bobby Labonte, and Kyle Busch are among the NASCAR series champions he has spotted for. However, starting with the 2012 Daytona 500, D'Hondt will spot for Jeff Gordon, the most accomplished driver of his generation. So how did D'Hondt become the eyes in the sky for the 4-time Cup series champion? Suffice to say, it's been a winding road to the Hendrick Motorsports perch.

D'Hondt grew up in the Long Island, N.Y. community of Levittown in the 1960's. Levittown has often been referred to as America's first suburb. It grew out of potato farm acreage purchased by real estate developer William Levitt. As servicemen returned from World War II and started families, the prospect of moving to a suburb and starting a family was appealing. D'Hondt graduated from Division High School in 1977 and attended C.W. Post College. When it came time to decide on a career, racing was the obvious choice -- even for a Long Island kid who grew up playing baseball. D'Hondt's grandfather was a racer and his father worked on cars at Freeport Speedway and Islip Speedway, the local bullrings on Long Island.

He joined the modified tour in 1981 and then set out on a driving career in the mid-1980's. It was during his time racing at Islip and also Riverhead Raceway that he became friends with Tommy Baldwin Jr. D'Hondt won two late model features at Riverhead in 1985, and moved up to the modified tour in 1987. He competed in three full modified seasons, posting a best finish of 2nd at Jennerstown Speedway in 1989. After stepping out of the driver's seat in 1991, he became a mechanic. However, his biggest career move came in 1996 when he moved south to Charlotte, N.C. with Baldwin to pursue NASCAR opportunities. He worked for several of the lower-rung teams such as Ranier-Walsh Racing and legendary car owner Junie Donlavey as a mechanic and tire specialist. He then moved on to be the general manager at Filmar Racing and then Bill Elliott Racing. When Elliott moved to Evernham Motorsports in 2001, D'Hondt went with him and served as general manager of the organization, as well as the spotter for Elliott on raceday. After leaving Evernham, he moved on to Tommy Baldwin Racing and then to Robert Yates Racing in 2003. D'Hondt guided Elliott Sadler into the inaugural Chase for the Championship in 2004. However, he was released from his contract two seasons later as Yates restructured operations.

In 2007, D'Hondt started his own raceteam operating out of shop in Denver, N.C. The team mostly fielded cars in the ARCA and Busch series. The team's lone Cup race came at Sonoma with Mark Goossens behind the wheel. In 2008, Kyle Busch stepped into the D'Hondt Motorsports car for the Nationwide race at Watkins Glen. Busch started 7th and posted a runner-up finish -- the best ever series finish for the team. In 2010, Danny O'Quinn drove the D'Hondt Motorsports car essentially as a start and park driver. D'Hondt joined Kyle Busch's team as the spotter midway thru the 2010 season after Jeff Dickerson departed for Jeff Gordon's team.

D'Hondt spotted Busch to a victory at Bristol in August 2010, and to four more Cup series victories in 2011. Following Dickerson's departure from Gordon's team after the 2011 season, D'Hondt departed the #18 Joe Gibbs Racing team for the #24 team. D'Hondt becomes Gordon's third different spotter in less than two seasons. D'Hondt is now Gordon's guiding light to more record-setting victories and championships.

As you can see, the spotter is an integral part of the crew. While he doesn't have direct influence as to what auto parts go into the car, he still can be an important part of a win.