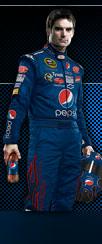 Action Day Brings Promise
July 22 - - In late June, I attened Childhood Cancer Action Days in Washington, D.C. hosted by the Alliance for Childhood Cancer. The two-day event consisted of advocacy training followed by visits with Congressional representatives and Senators. Jackson Panzarello's inspiration brought me to Capitol Hill in June. What I found there were hundreds of impassionated advocates and teammates fighting to end childhood cancer. I knew in my heart that these were indeed the committed people who will change the world and improve the outcomes for all children diagnosed with cancer. Thank you, Fight On.

Essay: Childhood Cancer Action Day 2014
---
Lost Gamble
July 14 - - Brad Keselowski dominated the Camping World 301 at New Hampshire Motor Speedway by leading nearly half of the race en route to his second win in the last three weeks. Jeff Gordon finished 26th after an up and down day where he made a late race gamble to make it to the finish on fuel, but came up 3 laps short when the race went into extra time. Gordon was running 3rd in the closing stages and moved to 2nd when Denny Hamlin came to pit road under caution on lap 299. However, Gordon ran out of fuel one lap later and needed a push to the pits from a safety vehicle. Nevertheless, he holds a 12 point lead in the NASCAR standings. It snapped his streak of 17 consecutive top-15 finishes at Loudon. It's the first time he finished outside the top-15 on a non-restrictor plate track since November 2013 at Texas.
---
Fight On Against Pediatric Cancer
As you may know, I didn't start a website about Jeff Gordon with the intention of raising money to fight pediatric cancer. Two years ago, Jackson Panzarello forever altered the course of my life. Jackson's battle against cancer sparked my efforts to give more children a fighting chance against the disease. I have many teammates who open their hearts and wallets every time I have a pediatric cancer fundraising event. Whether you've donated $5, $500, or $5,000, your continued support means to the world to me. My fundraising efforts are directly tied to the power of teamwork. It is truly, as the inscription at Hendrick Motorsports reads, "the fuel that allows common people to produce uncommon results." Please consider a donation and join our team in the fight against pediatric cancer.

Essay: "False Echoes" - On life, loss, and the everlasting impact of Jackson Panzarello

Oct 24-28: A long weekend in Southern California in honor of the inspiration who put me on this incredible path to make a difference in the fight against childhood cancer. It was humbling to read the piece on USC's website about my pediatric cancer fundraising efforts in honor of Jackson Panzarello to support The Jeff Gordon Children's Foundation, Kick-It, and CureSearch.
Read: "Fighting On for Jackson"

Homecoming Game: Trip to Charlotte on Sept 11 for a Kick It event with my amazing teammates in our mutual fight to end childhood cancer.
PIC: 'The Boys In The Band'

JGCF Annual Report - Honored to be featured in The Jeff Gordon Children's Foundation Annual Report (p.15 of PDF, p.27 of report)
---
Making A Difference
Pediatric cancer fundraising total: $69,905*
2014
Jeff Gordon Children's Foundation: $10,627
St. Baldrick's Foundation: $150
2013
Jeff Gordon Children's Foundation: $20,300
Kick It for Children's Cancer: $5,140
St. Baldrick's Foundation: $159
Marnie Jude Foundation: $32
2012
Jeff Gordon Children's Foundation: $12,681
Kick It for Children's Cancer: $12,608
CureSearch: $737
2011
Jeff Gordon Children's Foundation: $1,752
CureSearch: $5,719
*Since 2011
---
| | | |
| --- | --- | --- |
| Public Comments | | Newsworthy |
| | | |
| --- | --- | --- |
| | | Going forward, the "breaking news" can be found on Facebook and Twitter. The Jeff Gordon Online website will focus on race reports, feature columns, and charity initiatives. |
Follow on Twitter!


Calendar
July 25
Practice
July 26
Qualifying
July 27
Brickyard 400


| | |
| --- | --- |
| Starts | 19 |
| Poles | 0 |
| Wins | 1 |
| Top-5 | 6 |
| Top-10 | 13 |
| DNF's | 0 |
| | |
| --- | --- |
| Track | Finish |
| Michigan | 6 |
| Sonoma | 2 |
| Kentucky | 6 |
| Daytona | 12 |
| Loudon | 26 |


2001- Jeff Gordon passes Ricky Rudd in turn 1 on the final lap at Michigan to claim the 100th Cup win for Hendrick Motorsports.

-June 10-