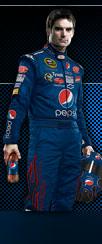 Blink Of An Eye
November 1 - - Jeff Gordon posted his 8th front row start of the season in qualifying for Sunday's race at Texas Motor Speedway. Gordon missed the pole by just one-thousandth of a second. Nevertheless, it's his best start at Texas since November 2009, a span of 10 races. "[Pole sitter] Matt Kenseth put up a great lap and I just was off by the tiniest bit," Gordon said. "I could go back over that lap now a hundred times and do it over again to try to find that one thousandth or two thousandths of a second."
Martinsville Race Recap

JGCF RAFFLE - NOV 4... SOLD OUT: Jeff Gordon 1st win autographed pic, diecasts, t-shirts, posters, race programs + more. Tickets: $6/ea. All proceeds benefit the Jeff Gordon Children's Foundation for pediatric cancer research. Exceeded $50,000 for the JGCF!
---
Fight On Against Pediatric Cancer
In 2011, Jackson Panzarello forever altered the course of my life. Jackson's battle against cancer sparked my efforts to give more children a fighting chance against the disease. I have many teammates who open their hearts and wallets every time I have a pediatric cancer fundraising event. Whether you've donated $5, $500, or $5,000, your continued support means to the world to me. My fundraising efforts are directly tied to the power of teamwork. It is truly, as the inscription at Hendrick Motorsports reads, "the fuel that allows common people to produce uncommon results." Please consider a donation and join our team in the fight against pediatric cancer.

Pediatric cancer fundraising total: $86,046*

2014
Jeff Gordon Children's Foundation: $15,768
Kick It for Children's Cancer: $11,000
St. Baldrick's Foundation: $150

2013
Jeff Gordon Children's Foundation: $20,300
Kick It for Children's Cancer: $5,140
St. Baldrick's Foundation: $159
Marnie Jude Foundation: $32

2012
Jeff Gordon Children's Foundation: $12,681
Kick It for Children's Cancer: $12,608
CureSearch: $737

2011
Jeff Gordon Children's Foundation: $1,752
CureSearch: $5,719

*Since 2011
---
Essay: "False Echoes" - On life, loss, and the everlasting impact of Jackson Panzarello

Essay: Childhood Cancer Action Day

Oct 24-28, 2013: A long weekend in Southern California in honor of the inspiration who put me on this incredible path to make a difference in the fight against childhood cancer. It was humbling to read the piece on USC's website about my pediatric cancer fundraising efforts in honor of Jackson Panzarello to support The Jeff Gordon Children's Foundation, Kick-It, and CureSearch.
Read: "Fighting On for Jackson"

Homecoming Game: Trip to Charlotte on Sept 11 for a Kick It event with my amazing teammates in our mutual fight to end childhood cancer.
PIC: 'The Boys In The Band'

JGCF Annual Report - Honored to be featured in The Jeff Gordon Children's Foundation Annual Report (p.15 of PDF, p.27 of report)
---
| | | |
| --- | --- | --- |
| Public Comments | | Newsworthy |
| | | |
| --- | --- | --- |
| | | Going forward, the "breaking news" can be found on Facebook and Twitter. The Jeff Gordon Online website will focus on race reports, feature columns, and charity initiatives. |
Follow on Twitter!


Calendar
November 2
Texas
November 5
JG at SEMA
November 7
Phoenix qualifying


| | |
| --- | --- |
| Starts | 33 |
| Poles | 2 |
| Wins | 4 |
| Top-5 | 13 |
| Top-10 | 21 |
| DNF's | 0 |
| | |
| --- | --- |
| Track | Finish |
| Dover | 1 |
| Kansas | 14 |
| Charlotte | 2 |
| Talladega | 26 |
| Martnsvlle | 2 |


1999- After a 7-year partnership where they captured 47 wins and 3 titles, Ray Evernham stepped down as Jeff Gordon's crew chief.

-September 26-