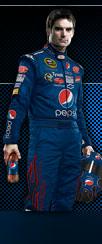 Jeff Wins At Michigan
August 17 - - Jeff Gordon captured his second victory in the last four races with a stirring win at Michigan International Speedway. It was Gordon's 3rd win of the season and the 91st of his NASCAR Cup series career. Gordon took the lead for the final time from Joey Logano on a restart with 17 laps to go. Gordon's 447th top-10 finish moved him past Bobby Allison for the 3rd highest total in NASCAR history behind Richard Petty (712) and Mark Martin (453). It was Gordon's first win from the pole position since April 2007 at Talladega. "It's extremely exciting," Gordon said. "It wasn't an easy victory even though we had a great race car. Those restarts are so crucial, but also intense here with the speeds we're carrying. It's just an awesome effort all day to stick with it. We had great pit strategy and stops to be in that position to have a shot at it. As a driver -- especially as someone who's been getting beat up over the years about restarts-- it's pretty nice to have the last 2 wins come down to restarts. It's building our confidence in what we're doing and making these races a lot of fun."
---
3M For 3 Years
August 12 - - 3M will serve as primary sponsor on the #24 Sprint Cup series car for 11 races per season in 2015, 2016, and 2017. The addition of 3M completes Jeff Gordon's primary sponsor lineup for next season. The AARP Foundation will serve as primary sponsor in 13 races, 3M will have 11 races, and Axalta Coatings will have 10 races. Pepsi (2) and Panasonic (2) round out the lineup. The addition of another primary sponsor became necessary when the AARP Foundation scaled back its involvement from 23 events this year to 13 events in 2015. "With this deal, we align with champion driver Jeff Gordon and an organization at the top of its game in Hendrick Motorsports," said Jesse Singh, senior vice president, 3M Global Sales and Marketing.
---
Fight On Against Pediatric Cancer
As you may know, I didn't start a website about Jeff Gordon with the intention of raising money to fight pediatric cancer. In 2011, Jackson Panzarello forever altered the course of my life. Jackson's battle against cancer sparked my efforts to give more children a fighting chance against the disease. I have many teammates who open their hearts and wallets every time I have a pediatric cancer fundraising event. Whether you've donated $5, $500, or $5,000, your continued support means to the world to me. My fundraising efforts are directly tied to the power of teamwork. It is truly, as the inscription at Hendrick Motorsports reads, "the fuel that allows common people to produce uncommon results." Please consider a donation and join our team in the fight against pediatric cancer.

Essay: "False Echoes" - On life, loss, and the everlasting impact of Jackson Panzarello

Essay: Childhood Cancer Action Day

Oct 24-28, 2013: A long weekend in Southern California in honor of the inspiration who put me on this incredible path to make a difference in the fight against childhood cancer. It was humbling to read the piece on USC's website about my pediatric cancer fundraising efforts in honor of Jackson Panzarello to support The Jeff Gordon Children's Foundation, Kick-It, and CureSearch.
Read: "Fighting On for Jackson"

Homecoming Game: Trip to Charlotte on Sept 11 for a Kick It event with my amazing teammates in our mutual fight to end childhood cancer.
PIC: 'The Boys In The Band'

JGCF Annual Report - Honored to be featured in The Jeff Gordon Children's Foundation Annual Report (p.15 of PDF, p.27 of report)
---
Making A Difference
Pediatric cancer fundraising total: $72,481*
2014
Jeff Gordon Children's Foundation: $13,203
St. Baldrick's Foundation: $150
2013
Jeff Gordon Children's Foundation: $20,300
Kick It for Children's Cancer: $5,140
St. Baldrick's Foundation: $159
Marnie Jude Foundation: $32
2012
Jeff Gordon Children's Foundation: $12,681
Kick It for Children's Cancer: $12,608
CureSearch: $737
2011
Jeff Gordon Children's Foundation: $1,752
CureSearch: $5,719
*Since 2011
---
| | | |
| --- | --- | --- |
| Public Comments | | Newsworthy |
| | | |
| --- | --- | --- |
| | | Going forward, the "breaking news" can be found on Facebook and Twitter. The Jeff Gordon Online website will focus on race reports, feature columns, and charity initiatives. |
Follow on Twitter!


Calendar
August 22
Qualifying
August 23
Bristol
August 26-27
Martinsville testing


| | |
| --- | --- |
| Starts | 23 |
| Poles | 2 |
| Wins | 3 |
| Top-5 | 8 |
| Top-10 | 16 |
| DNF's | 0 |
| | |
| --- | --- |
| Track | Finish |
| Loudon | 26 |
| Brickyard | 1 |
| Pocono | 6 |
| W.Glen | 34 |
| Michigan | 1 |


1994- Jeff Gordon takes the lead from Ernie Irvan in the late stages and wins the inaugural Brickyard 400.

-August 6-